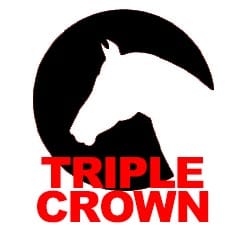 Triple Crown betting involves horse racing wagering on the best-thoroughbred competitions in the world. This list includes betting on the Kentucky Derby, Belmont Stakes and Preakness competition. Getting the correct order of the winners in these races is very difficult, hence why we've collected tips from pro horse gamblers. There have only been 13 horses that have won all three races in a single calendar year.
These stats show just how difficult it is to win the Triple Crown. You can find a list of Triple Crown contenders for 2023, thoroughbreds that have the likelihood of winning all races. Find a list of horse racing betting sites in Tanzania and start playing today. Bet on horses to win the Triple Crown and win big today!
Best Horse Racing Wagering Sites 2023
Bet US racing events online and win loads of cash prizes now!
Operator

Bonus

Features

Claim Now

150% Match




Bonus Up To TZS 200,000




✔

FREE Bets

100% Match




Bonus Up To R1715




✔

FREE Bets

100% up to €50




Cashback: €500




✔

FREE Bets

100% Match




Bonus Up to €50




✔

FREE Bets

R25 Sign Up Bonus




Jackpot: R4 500 000




✔

FREE Bets

100% Match
Up to R3000




✔

FREE Bets

100% UP TO €25
+ €10 FREE BET




✔

FREE Bets
What is the Triple Crown?
The Triple Crown of US Thoroughbred Racing is a contest between the fastest three-year-old thoroughbred that takes part in three prestigious races in America. The crown races take place every year and run from May to June in a period spanning five weeks. Each race track is different from the next, which makes horses that are able to win in all these racecourses that much more impressive. Horse racing fans would have come across at least one Triple Crown race in their betting history. Find out which races form part of US tote betting and start placing your bets online.
Bet on the Triple Crown Odds
The Triple Crown order kicks off with the Kentucky Derby. You can find the best horse racing betting sites that offer promotions and bonuses on the competition online. Nowadays, punters can watch and wager horse racing bets without having to leave their homes. Here's a full list of Triple Crown horse race challenge that runners need to overcome:
The 13 Legendary Triple Crown Winners
Winning the Triple Crown is a rare and remarkable accomplishment, with only 13 horses in history achieving this feat. Sir Barton was the first winner in 1919, and the most recent was Justify in 2018. These horses have cemented their places in American horse racing history, and their names are synonymous with greatness. Some of the legendary Triple Crown winners include Secretariat, Seattle Slew, and Affirmed.
Bet on the Kentucky Derby
In early May, horse racing fans wager on three-year-old thoroughbreds that race at the Churchill Downs Racecourse in Louisville, Kentucky. Horse trainers and jockeys from around the world take part in the ¼ mile long dirt to determine the winner. A total of 20 horses race for the coveted jackpot prize of $2 million.